Shooting Hoops basketball game offers guests a more innovative and rewarding experience over traditional family entertainment center basketball games. With these helpful tips, you can make sure it's maximizing its revenue potential for you.
#1 – PROMOTE SOME HEALTHY COMPETITION
Head-to-head play is not just a popular arcade sport's game format for guests, it also creates a valuable revenue opportunity for operators. Side by side gameplay increases the chance of repeat play because guests think more about the competition than how much they're feeding the game. Encourage guests into multiplayer groups or team challenges! 
Neofuns Amusement Shooting Hoops Basketball Machine Features:
1. The form of the game to pass, the player must reach the set points, he can play the next level;
2. In the first level, the basket does not move, the second, three, four, five in the basket swing; It can also set all game rim does not swing;
3. Each game time and the pass mark can be set by pressing the button, adjustable range is wide, simple and rapid setting;
4.2 ~ 16 sets can be wired to the competition, which can increase the game fun;
5. Strengthen the lighting and sound design: light super bright LED lamp cup, DC12V design, current is small, not easy to damage, double trumpet sound system, have stereo feeling more.
Allowing and encouraging two or more players to compete for side by side creates a multiplayer midway basketball frenzy that will excite guests and keep them coming back for more chances to win.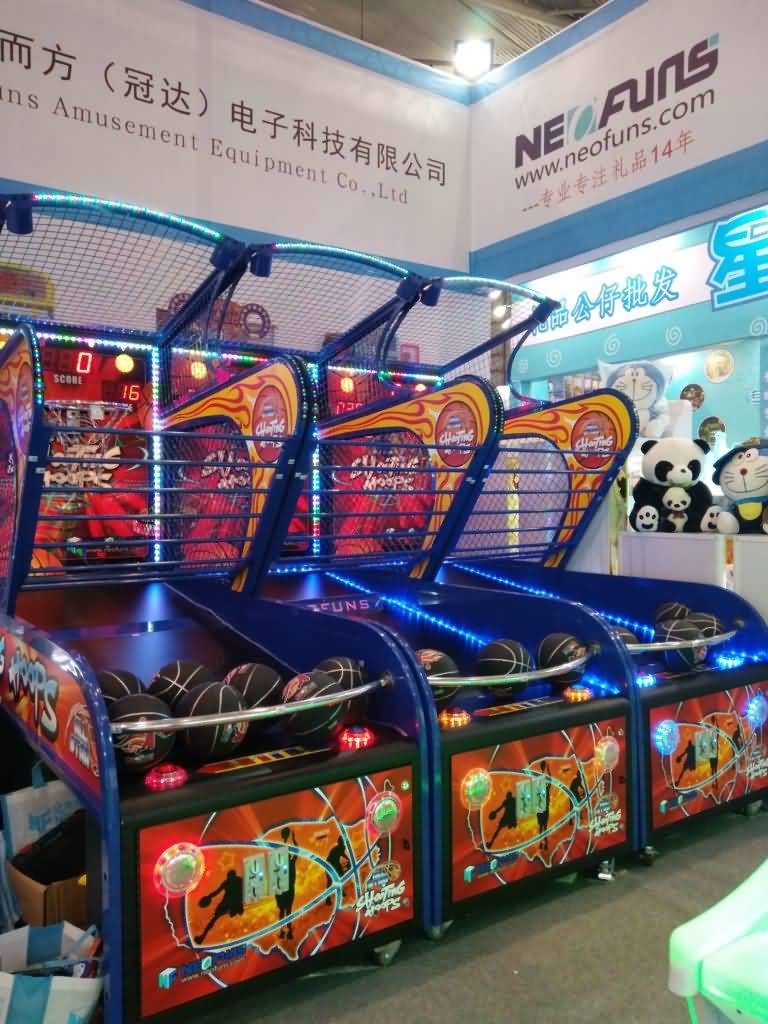 #2 – SET AN EFFECTIVE GAME TIMER
Operator settings allow you to control the game time, but we recommend 30 seconds as this is the perfect balance of providing enough gameplay while leaving the player with enough energy to play again.
#3 – KEEP SPARE PARTS ON HAND
Although your Shooting Hoops comes with 7 Basketballs, we recommend operating with 5 per game for the best play experience and keeping the other 2 as spares. If you have a bank of Shooting Hoops basketball games, check them periodically to ensure each game has 5 balls, as players tend to mix them between cabinets.
With a high volume of gameplay, the Shooting Hoops net will start to deteriorate after around 3-6 months. We suggest changing the net at this time to keep the game looking fresh.
It's always a good plan to keep a few spare common parts on the shelf. Having some basic items on hand is key to maintain the game's performance and ensuring Shooting Hoops never misses an opportunity to earn you revenue. We recommend getting 2 or 3 additional basketballs and one replacement net.
#4 – GENERAL GAME MAINTENANCE
Performing general maintenance just like you would on any other game is an important part of keeping your Shooting Hoops basketball gameplay running smoothly.
Regularly dust and clean the external cabinet areas as required, using a soft water-damp cloth and mild soap. Clear any dust from play area coming from the balls. Regularly dust and vacuum the interior of the cabinet, taking care to remove any objects that may have fallen.
Check the inflation levels of the balls, and don't over-inflate!  Slightly under-inflating basketballs make them less likely to bounce in and out of the game, and if guests aren't having to chase balls down, they can spend more time shooting!
Check the basket, ball gate and playfield hardware are firmly secured and tighten fasteners where required.