CAE – China Attractions Expo 2018 is an international exhibition which is related to the leisure and attractions industry. This event will take place in Beijing, China. CAE – China Attractions Expo 2018 to be held on 17-19 Mar 2018 and organized by CAAPA (China Association of Amusement Parks and Attractions).
Profile of exhibits includes 3D / 4D / 5D, Admission and Ticketing, Amusement Machines, Clothing / Uniforms, Coin-operated Machines, Computer Systems / Software, Construction, Consultants / Design & Planning, Digital Entertainment Centre Products, Displays & Set, Facility & Grounds, Food & Beverages, Games & Devices, Gifts, Novelties, Souvenirs, Hi-tech Equipment & Devices, Inflatables, Insurance, Internet Games, Kiddie Rides, Participatory Play Equipment, Payment Solutions & Cash Handling, People-Moving Equipment, Photo Booths, Redemption Machines, Rides, RFIS & Security Equipment, Shows & Productions, Simulators, Theatrical Equipment & Supplies, Themed Retail Stores, Trade Associations / Societies, Trade Publications, Video Games, Water-related Attractions Equipment & Supplies.
Neofuns Amusement will attend CAAPA Expo with the introduction of the latest amusement game machine into the amusement industry. We hope to meet you there and invite you to see our new crane machine for sale.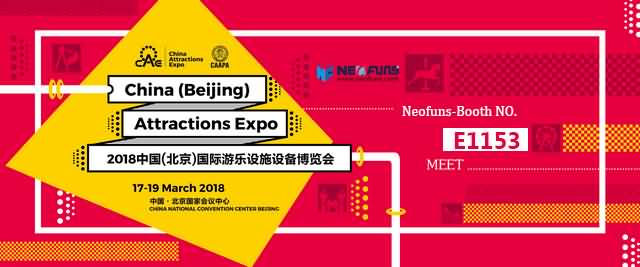 Time: 17-19 Mar 2018
Our Booth: E1153,Hall 4,Beijing National Convention Center,China